WELCOME TO KARTIKEYA INDUSTRIES PVT. LTD.
A rising star among Engineering Organization in Hyderabad
The sweeping changes happening in the global economy have given rise to an immense demand for cold formed products in India – the basis for an array of cold forming enterprises. Leading the way among them is Kartikeya Industries Pvt. Ltd., a reliable name in Engineering Industry in Hyderabad, which offers economical building solutions across India.
Contact Us
+91-(040) 40208040
PRE-ENGINEERED BUILDINGS
A PEB is a metal building that consists of light gauge metal roof panels on steel purlins Read more…
BUILDING PRODUCTS
Composite Deck sheet helps in binding with concrete slab and together forms Read more…
RAILWAY COACH COMPONENTS
Kartikeya Industries Pvt. Limited offers specialised solutions that are specifically crafted Read more…
SOLAR MODULE MOUNTING STRUCTURES
Apart from standing out as a futuristic engineering company with years of experience Read more…
METAL CRASH BARRIERS
A national focus on making roads safer is an essential element of Kartikeya Industries Pvt. Ltd. Read more…
FABRICATION
If you are in pursuit of a reliable fabrication company with proven expertise and zest for challenges, Read more…
Scaling new frontiers of technical excellence
Meeting the versatile needs of its clientele that represents all segments of the economy, a new generation of workforce is seizing the moment at Kartikeya Industries every day. Blazing its own path by leveraging quality, efficiency and innovation, Kartikeya Industries is all set to emerge as a leading name in roll forming industry while consolidating its operations to provide turnkey solutions for steel structures as well as end to end solutions.
No wonder Kartikeya Industries is the proven choice for solutions related to following industrial segments:
EPC / Infrastructure / Power projects
Steel Buildings / Pre-Engineered Buildings
Highways / Road Construction
Railways
Material Handling, General Engineering & Fabrication
Solar Power Projects
THE RISE OF BEST
Among Engineering Organization In India
The landmark year 2013 witnessed the arrival of a new star on India's rapidly growing industrial horizon. A futuristic engineering entity among engineering industry in India was envisioned by seasoned technocrats with decades of expertise in Cold Forming, Heavy Engineering Fabrication and general engineering realms. With factory anchored in a sprawling space of 15 acres at Mominpet near Sadashivpet, Hyderabad in Telengana, the engineering enterprise was strengthened with state of the art infrastructure for the manufacture of intricate profiles for a variety of applications and it never looked back ever again.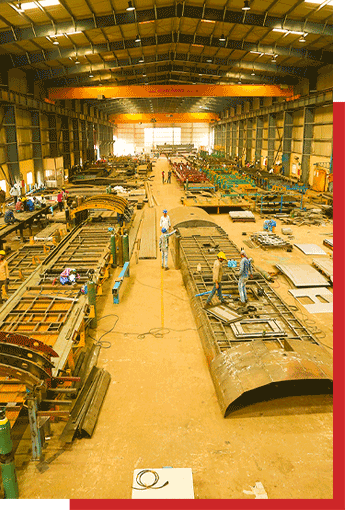 Today, while the products manufactured by the pioneer among the engineering organizations in India are in conformity with Indian and International Standards, it has engineering and design capabilities to scale new frontiers of technical excellence coupled with committed high degree of service and quality. Backed by in-house capacity to deliver 36000 MT per annum of Cold Forming Sections and Heavy Engineering Fabricated Structures including Railway Coach Applications, the rapidly progressing entity has envisaged foraying into new avenues and markets which will render an ideal product mix and help in scaling the value chain.